Dean's Message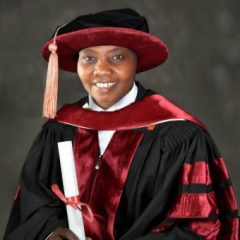 Greetings and welcome to the Faculty of Business and Economics.
The rapidly changing technology and market forces are continuously making the global
economy very competitive. This has made business education imperative for any
professional to be able to navigate the global business world.
The aim of our Faculty is to assist the students to face the turbulent waters of global
business by equipping them with the knowledge, research techniques, insights and
necessary skills relevant for the modern global market. The school experience in the
Faculty is unparalleled and is designed to prepare our students to be leaders in the
public, private and not-for-profit sectors.
The Faculty has three departments namely: – Department of Marketing & Management,
Department of Finance & Accounting and Department of Procurement & Logistics. Our
teaching is a blend of classwork, online resources, and talks by experienced industry
players.
As a student in this Faculty, you will have access to opportunities that complement your
university education by having one-on-one academic advising, active career clubs,
academic trips and other intangibles that truly set the Faculty above the competition.
You will find your choice of MMU Faculty of Business and Economics worth your while.
Dr. Mary Mugo, PhD
Dean Faculty of Business and Economics
mmugo@mmu.ac.ke